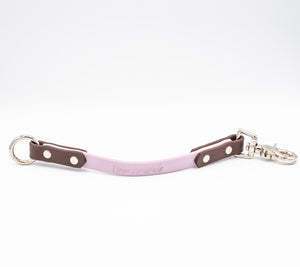 Grab Tab in Lavender and Chocolate with Nickel hardware. This Grab Tab was made longer (12" from very tip of trigger snap to the end of the o-ring). Would work great for a tall or large dog. Discounted because of length.
*We recommend constant supervision of your animal when wearing Flicker Mountain Co products. As a customer, you accept all responsibility for any and all injuries that may occur due to the incorrect use of these products.
**Any tags pictured are not included.