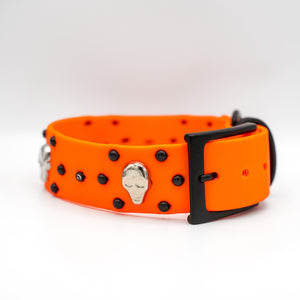 Flicker Beyond the Grave Collar in Hunter's Orange with Nickel hardware. This collar is 1.5" wide and is size medium (15"-18").
*We recommend constant supervision of your animal when wearing Flicker Mountain Co products. As a customer, you accept all responsibility for any and all injuries that may occur due to the incorrect use of these products.
**Any tags pictured are not included.